Traffic Club of Chicago Looks at How Latest Trucking Regulations Impact Entire Supply Chain
April 17 Half-Day Program in Joliet Features Speakers and Panel
CHICAG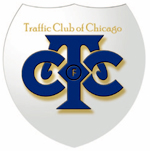 O—March 25, 2014 (James Street Media Services)—The Traffic Club of Chicago's next Executive Series Briefing on Thursday, April 17 in Joliet will focus on new regulations in the trucking industry and how the impacts ripple through the supply chain.
"CSA: What Shippers, Truckers and Brokers Need to Know—Now!" will include two keynote speakers and a panel presentation. It will be an in-depth look at the changes the Federal Motor Carrier Safety Administration's (FMCSA) Compliance, Safety, and Accountability (CSA) Program is bringing to the transportation industry.
The goal of CSA is to reduce commercial truck and bus crashes, fatalities, and injuries. The FMCSA analyzes safety-based violations from inspections and crash data to determine a commercial motor carrier's on-road performance, and then deploys a range of corrective interventions to address a carrier's specific safety problems.
"The impact of the new CSA initiative on the transportation community is widespread and important," said Skip Marshall, chair of the Traffic Club's Education Committee. "Shippers, carriers, brokers, and insurance providers are all impacted, and need to understand how the CSA affects the way all parties in the transportation industry do business."
When:
Thursday, April 17, 2014
8:30 a.m. – Registration, networking and continental breakfast
9:30 a.m. – Opening keynote: David LaPorte, president, LaPorte CSA Inc.
10 a.m. – Panel session
Moderator: Jeff Clark, Managing Partner, Eagle Corporate Solutions
Panelists include: Don Osterberg, senior vice president of Safety & Training, Schneider National, Inc.; Paul Brocklebank, chief underwriter, Canal Insurance; Gary Palmer, senior director transportation, True Value; and Dave Durtsche, senior partner, Tranzact.
12:15 p.m. Luncheon Keynote: Matt Hart, Executive Director, Illinois Trucking Association
 
Where:
University of St. Francis
Performing Arts Center
500 Wilcox Street
Joliet, Illinois
 
Tickets:
Members and guests: $75
Non-member: $85
Reservations are required, and may be made in the following ways:
• Online
• Phone: 630-529-1333
• Email: staff@trfclub-chicago.org
About The Traffic Club of Chicago
The Traffic Club of Chicago, founded in 1907, is one of the nation's oldest and finest transportation associations. The club is dedicated to maintaining the highest standards of the transportation and logistics industry, keeping its members abreast of industry happenings, while at the same time assuming a responsible role in civic, cultural and charitable activities in the Chicago area. Members enjoy many benefits, including access to private dining and country clubs around the Chicago area, as well as across the country and overseas. An annual schedule of programs and events provides opportunities to network with industry professionals. A scholarship program supports the organization's philosophy of direction and guidance. Headquartered in Bloomingdale, Illinois, the club publishes a monthly newsletter, "The Waybill." More information can be found at www.traffic-club.org and www.facebook.com/TrafficClubCHI.
MEDIA CONTACT
Bill Fahrenwald
James Street Associates
bfahrenwald@jamesstreetassoc.com
708-371-0110 Ext. 1-#